Who are the Friendz?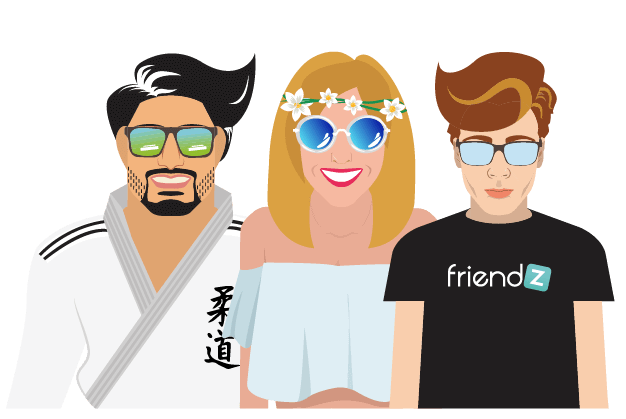 Friendz are those people who love challenging themselves on social media while taking great pictures. All the photos we receive tell a story which is related to user's personal life or a brand suggestion. In exchange for the help provided, we compensate the collaborators with credits which are easily convertible in coupons to be spent in the major e commerce platforms and stores. What are you waiting for? Join our community!
How do the campaigns work?
Using Friendz App you will find various typology of campaigns:
Fun 🎪
You can understand the meaning of these campaign just by their name: they are fun!
There are 5 Fun campaign per week, one per day from Monday to Friday.
All Fun Campaigns will affect your quality: by participating in the campaigns you will have the possibility to grow up and improve your quality more and more! They will also be used to increase your level.
The campaigns' concepts are different: they try to satisfy all users' preferences and they include compositions and portraits, landscapes and street photography!
You will find concepts made by Friendz or by other users. Keep an eye on the app: you can propose your campaign in one of our surveys.
Brand 👑
These campaigns are paid by a brand! We cannot decide when they will be available in the app, but they will be available only when the brands approve them. These campaigns will have a value in credits that will vary depending on the campaign difficulty and other functions.
Campaigns' concepts are created by our creative team or by the brand that owns the campaign.
These campaigns could be invisible or public (photographic campaigns).
A few more information and rules about our brand campaigns…
We kindly ask you not to directly contact the brand that owns the campaigns in app, in order to not have any penalty!
If you will have any problem with the campaign, the availability of the product involved in the campaign or with any other things related to the brand campaign, please contact our support team: we will do our best to help you solve the problems!
If the brand that owns the campaign decides to use your photo on its social pages, you will be mentioned and tagged directly by them!
Boost 👻
Generally speaking, these campaigns require a sort of action to be done (such as like a page, share or comment a post) and upload your screenshot.
In order to take part in these activities you will not have to publish anything from the app: they are invisible!
You will have to upload the screenshot in the campaign, wait for the approval and you will be rewarded with credits if the requested content is correct.
Survey ✍️
These category refers to survey campaigns. They are campaigns with automatic approval where you are asked to answer a few questions, to get to know you or to ask you for some opinion. The surveys will also help us in the screening phase of possible brand collaborations! Fill in the questionnaire in the most sincere way: you will help us to meet your interests!
Special 🤡
The Special category refers to campaigns that do not belong to the previous mentioned categories and are activated on special occasions only. In Friendz they can occur any time, you never know when!
Type of publication
Our campaigns can be classified into different categories according to the:
Public
Campaigns which require a photo publication on Facebook and/or Instagram. If you join a campaign through the app, the photo is sent to our moderators. Once the content has been approved, you'll only have to publish the photo on your social profile following the steps indicated in the app.
Invisible
Generally speaking, these campaigns require the completion of an action (like a page, share, comment) and upload a screenshot in the app. For these campaigns you don't have to publish through Friendz. The actions required can be different, read the rules and you'll realize they are a child's play!
Only Friendz
These campaigns require the photo publication on Friendz only! The dynamics of these campaigns is the same as public campaigns: you should join a campaign simply by uploading a photo in the campaign, the photo is then evaluated by our moderators and, once approved, it will be visible in the app's wall: you won't have to publish the photo on your social profiles, but you're more than welcome to do that!
Social Media where we publish your content:
FACEBOOK - feed and story
INSTAGRAM - feed and story
FRIENDZ - feed

What do you find in your profile?
You will find your profile picture (taken from the social media used when registered) and your stats in Friendz: quality, level and stars.

What are those things? 🤔
The quality 💎
The quality refers to how good your photo quality is, and it depends on the moderator's evaluation of each of your photos. You can recognize it because it has a diamond as a symbol and it changes each time the photo is approved.
The level 🏅
The level indicates your in-app monthly activity and it is defined by the number of campaigns you complete in a month. The more campaigns you complete, the higher level you will reach. According to the level you have reached, you can have the priority in the reception of brand campaigns: this means that, the more active you'll be, the more campaigns you'll receive! Remember that the level you'll reach will determine the level you'll have in the following month: it is up to you to keep the same level in the next month! If in the second month your activity won't equal the previous month, the month after you will go down to the level corresponding to the campaigns made. Easy peasy!
Lo stars ⭐️
The Stars indicates the total amount of stars that other users gave to your photos: the more users will give a star to your photo the more this number will increase. Always try to do your best in order to be in the "Best of Photos" of each campaigns and to gain visibility 🚀🔝
How to participate in the campaigns
Read carefully the copy of the campaign you want to take part e try to understand which is the real theme proposed. 🤓
Now read all rules: general rules, positive and negative ones. Now you can click on "Join" at the end of the campaign and choose if you want to take the photo required using your camera or if you want to upload a photo from you gallery.
Add a comment that must include the mandatory hashtags (if present) and send your photo.
Now you have to wait for our approval and when received, follow the steps in order to publish the photo on your social.
Often at the end of the campaign you will find our Moderators' suggestion: try to follow their suggestions in order to take a wonderful photo and get better and better!
How does the photo moderation works?
Once you've uploaded the photo, your content will be valued by our moderators.
Who are the moderators? 😎
We have no approval bots: moderators are human and are among other users. They receive the photo without seeing the name of the photo's author and don't see any other information about the user: they only see the photo and the photo description. The moderators are anonymous and their identity is hidden to avoid any external influence.
There are also super-moderators: they can see your name so they can moderate the invisible campaigns which require a subscription with your name visible 🤓
What are moderators for?
They are fundamental they assess whether the rules of the campaign have been respected or not. They give an impartial evaluation to your photo, following specific criteria and instructions given by Friendz. Each photo is evaluated by more than one moderator, the average of each evaluation will determine the final vote of your photo.
How long should I wait?
In order to evaluate your photo, you should wait a maximum of 48 hours. Our moderators are committed to moderate your photo in less than 1 hours, but sometimes it takes a little more.
How could you become a moderator?
Our moderators are not professional photographers and they don't have any special degrees. Everybody could be a moderator. Wait for the survey that we send periodically and fill it. You could be chosen in case you will prove your attention and the fact that you know and understand the rules of Friendz!
Activity time
You can join public campaigns from 9 am to 9 pm. You can participate in invisible campaigns from 00:00 to 24:000 unless otherwise indicated or exceptional situations. The approval phase is between 9 am and 9 pm.
You can participate in surveys at any time.
Walll and "Best of"
Friendz Wall is divided in two sections: All and Followed.
All
In this section you'll find the most recent photos from the users who have received a good evaluation once they have been approved. In this way you can see the most amazing photos from which you can take inspiration and you can discover new promising profiles 😉
Followed
In this section you'll find all photos from the profiles you follow that have received a good evaluation once they have been approved. In this way you won't miss any of your besties' photo!
Best of
When you open a campaign in the app, you will find the "Best of" section: here you can find the photos that have received the highest score! In the "Best of" section you can see up to 30 photos at a time, which will be remixed every time you enter in the campaign.
Social profile privacy restriction
FACEBOOK | Private profile
Your Facebook profile could be private, but the privacy of the photos you are publishing through Friendz should be "Public" or "Friends". We do not accept very restrictive privacy (only me).
FACEBOOK | Sharing post
In order to take part on those activities that includes sharing posts, videos and photos that are required by our invisible campaigns, the privacy should be set on "Public".
INSTAGRAM | Private profile
Your Instagram profile could be private, it's not forbidden, but sometimes our server may not be able to find your photos and you may have problems with publishing process.
INSTAGRAM | Restricted privacy
In regards to the campaigns that involved Instagram stories, please remind that we do not accept stories with restricted privacy.
General rules | Photos
Each content you are publishing through Friendz should be authentic and of your own property.
Please remind that:
🚫You cannot download images from the Internet and use them for Friendz campaigns;
🚫We do not accept online photos;
✅You can upload photos you've already used in your Facebook or Instagram profile, but be careful that they we don't find them in other site online, in this case we will consider the photos as online;
🚫If you've already used a photo for another Friendz campaign, you cannot use it again, no even if you edit the photo with filters or if you cut it;
✅The photo you will upload in the campaign must be yours, it's strictly forbidden to take photos already posted by other users and use them;
🚫We do not accept screenshots or photos to other photos not even printed photos or scanned photos (unless the campaign itself requires it or is permitted by the rules);
🚫We do not accept photos with time stamps on it;
🚫We do not accept photos where people are hidden by stickers or filters (unless the campaign itself requires it or is permitted by the rules);
🚫We do not accept excessive filters unless the campaign itself requires it or it is permitted by the rules);
⚠️Pay attention to your photo shooting made by photographers: the photos may be already posted online and the property of the photos may not be yours;
🚫We do not accept any type of photographer's signature or watermarks, not even yours;
✅Only in Fun Campaigns we accept all watermarks created by mobile phone or apps that help you edit the photos. Brand campaign are more restrictive: we do not accept signature or watermarks with names or brand logos (es. "Huawei pro", "Honor", ecc).
🚫We do not accept photos that are clearly similar or identical to photos already used in other campaigns or by other users;
🚫For the brand campaigns, we do not accept photos taken in stores or supermarkets (unless it is required by the campaign itself or it is allowed in the rules);
🚫We do not accept comments which contain hashtag to get new followers or likes (eg #follow4follow, #instalike ecc...);
🚫We do not accept photos that can harm the morals and common ethics;
🚫We do not accept photos that may contain violence, incitement to hostility or violence against individuals or groups of people based on racial, religious, age, gender, sexual orientation, etc.;
🚫We do not accept nudes if vulgar or non artistic, or which portray children of any age;
🚫We do not accept photos that have, as a subject, fire or natural disasters;
🚫We do not accept photos that may contain violence, incitement to hostility or violence against animals;
🚫We do not accept photos in which cigarettes or cigarette packs are visible: tobaccos in Italy are State Monopoly and therefore cannot be advertised;
🚫We do not accept photos whose content refers - directly or indirectly - to any type of drugs;
🚫We do not accept visible sensitive data like number plates, ID cards, telephone numbers in the contents published through Friendz;
🚫We do not accept reproductions of material under copyright like photocopies or burned CDs.
General rules for your profile
Authentic profile, authentic Friendz!
With Friendz you can publish creative contents and make them visible to your Friends: this is our super power! 👨‍👩‍👧‍👦

Therefore, if you register on Friendz you must use real profiles which you use every day (not created for the application use only) and whose name must not contain Friendz references.
Slanderous posts or not suitable to the Friendz spirit will be considered harmful and sanctioned according to regulation.
Do not talk about Friendz
In the photos and comments published through the app there must not be references to Friendz (if your friends are curious and ask for clarifications you can explain in private message). We accept posts in which you talk about Friendz, and we allow you to leave invitation codes on your profile or in groups which allow the publication.
⚠️Friendz references can't be accepted in the photos published through the app, together with the comments, hashtags or your friends' comments.
Like exchange
We do not accept like, photos or content request. We do not accept this type of request published on your profile, private or public groups not even in private conversation between users.
Request of subscription through favor exchange are not allowed (such us exchanging coupons).
Is the use of other app permitted?
From 1/10/2017 the use of other apps or websites for advertising purposes connected with the social profile you are using with Friendz, will reduce the possibility to receive brand campaigns from the very first time. It doesn't mean that you will not receive anything, but you will receive them later (except for closed campaigns).
Do not delete Friendz photos
The elimination of the content published through a Friendz campaign on your social is forbidden. If you do that, there can be penalties.
Campaign credits and rules can change?
Credits and specific rules of a campaign can change over time and without any notice. The user must follow the rules and will receive the number of credits established at the moment of the user's publication.
What happens if i violate the regulation?
If you violate the regulation, EquiFriendz will adopt the correct punishment for the violation made, such as credits reset, temporary or permanent ban from the app. Punishments will depend on the seriousness of the violation made.

By joining the campaigns and sending the photo, you declare that you've read and complied with the rules and terms and conditions of Friendz.
Our story
In this page, we usually write a lot about the fact that "we are a leading company" or "we are different from other companies."
Now, we would like to tell you more about
Friendz origin and how the dream of three kids have turned into a reality that daily works with great brands, with the goal
of innovating digital marketing.
Friendz wasn't born in a garage or in a incubator in the Silicon Valley, like the majority of other startups did. We started our journey while having a cup of coffee with a slice of cake in my grandmother apartment, in a countryside village close to Milan.
I know, the choice could sound unusual, but where else three entrepreneurs "in the making" were supposed to start?In that cozy environment, my high school friend Daniele Scaglia, a young and perky girl called Cecilia Nostro and I, designed an app with the will of revolutionize the way companies would have communicated on social media.We were using social media on our own, you know, and we felt that the traditional way of doing online marketing was not effective anymore. Banners were annoying and the message that the companies wanted to convey, completely lost. We wanted to change it all, making branding campaigns interesting again.The idea behind it was simple: providing common people with the possibility of being ambassador of their favorite brands.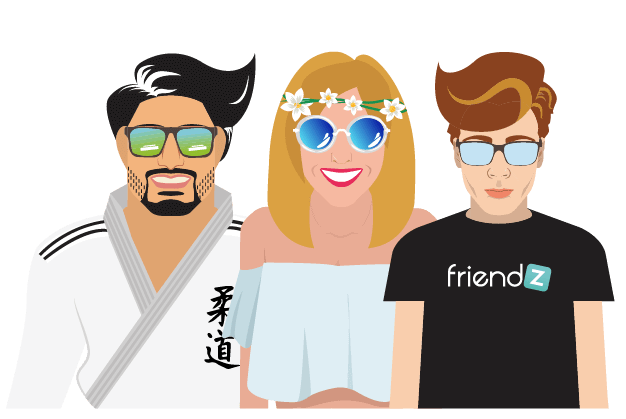 After the initial adrenalin rush, we realized that the best had yet to come! The work to be done was huge and we felt like our idea was on the high seas. How to create a business model? How to code an app? How to become a wise entrepreneur? We kept on asking ourselves those questions day and night…. At the end of the day we were just 25-year-old engineers, we wanted to create something revolutionary in one of the most competitive market in the world and the only resources we were counting on were our passion and attitude. Admirable, of course, but very hard! We didn't let anything or anybody to stop us and we fully dedicated ourselves to the project. Even if that meant quitting our jobs in multinational companies. At the beginning, everything was a challenge! That is why we spoke with every relevant person in the field, we took part in startup competitions, we filled white papers with ideas and we improvised ourselves as skilled graphic designers, developers and salesmen. We improvised and we tried, a lot. Initially, one of the biggest issue was getting the attention of big brands and marketing managers: we didn't have a track record or a product yet, but we had the courage to dare and to try every route. Stalking? We tried that too (and it worked!). We stationed in front of the headquarters of big brands, close to the smoking areas, hoping that someone at some point would have left the door open for us to enter and meet all those people we emailed who never answered back. And finally, the lucky day arrived: we were able to sneak in unknown corridors and nobody never noticed us or called the security (fortunately). Directly knocking at the doors, we were able to tell managers what we wanted to do and ask them for feedback in order to develop a service that could perfect answer the needs of future clients. From that day on, nothing scared us anymore: looking so bright-eyed and bushy-tailed we won the "Web Marketing Festival" competition. There we were awarded two prizes for a total amount of € 20.000 in front of 2.500 marketers and a jury of potential future investors. The victory drew more investors and one of them funded our idea with the first € 60.000, making the development and the improvement of the app possible.
The app first appeared in the Android Store in its beta version during the spring of 2016 and the downloads were, from the beginning, numerous. Friendz users were publishing a lot of pictures, day after day. We were happily surprised of this success, even more, when the first big brands reached us, asking for our services! In October, we decided to move to Milan, home to the most vibrant Italian businesses. We needed an office and a house too. Why not combine the two things together in the "Friendz style"? So we moved together in an office-house, that we call Friendz-House. Working and living together was an extraordinary experience that allowed us to deeply know everything about the other members of the team (maybe even too much!). We worked together, we breathed together and we grew together. Not just our business grew, but also the number of people inside our group: without noticing, we became ten. In the following months of 2016 more and more clients have been asking for our product and we got a victory in another startups competition: the "Wind Business Factor". As a reward, we have been sent for one month in the Silicon Valley to learn how to be perfect entrepreneurs. Our business was becoming more and more ambitious, and we needed further financing to boost it up and reach our goals. We received the second round of funding with € 400.000 from a major player in the digital marketing in Italy. Eventually, we were ready to scale up our business. Riding the wave, in 2017 we consolidated the Italian market creating a community of nearly 200k users, with a Monthly Active Users (MAU) of 27%. In the last months, we have been working with more that 120 clients, mostly multinational enterprises (FMCG). We made more than 200 brand campaigns and published in total more than 2 million photos and over a million euro in revenue. Our business has grown, Friendz family has become a team of 35 young tigers that want to conquer the world! But the thrill never ends: from October 2017, the app is also available in Spain! We began to cultivate the Spanish community and already launched the first campaigns. Incredible, right?